2020-21 Rotary Nowra Changeover
With NSW public gathering attendance numbers being lifted on 1 July, it was decided to change the planned Zoom Changeover meeting to an 'in- person' one. To maintain social distancing, the historic format was changed to an outdoor event at the Nowra Showground with the theme being 'Picnic at Hanging Rock'. Everyone was told not to breath for this snap group photo.
2020–21 Changeover Program
Master of Ceremonies: Graeme Cord
Acknowledgement of Country: Graeme Cord
Loyal Toast: Polly Shepherd
Introduction and welcome of Guests: Phil Presgrave
Toast to Rotary International: Mark Bennie
Response to RI toast: Andrew Bevan
Special Presentations by Graeme Cord
Report on Rotary year 2019/20 by Graeme Cord
Introduction of President 2020/21: Graeme Cord and Jason Cox
Award of President and Past President Pins
Incoming President Jason's address
introduce new Board (postponed until 15 July meeting)
Closing remarks by Jason Cox
With his renowned MC skills, Graeme welcomed all members and guests, in particluar the the five proposed new members, gave the "Welcome to Country", thanked all that contributed to putting the outdoor event on; and set the tone for a relaxing and enjoyable afternoon tea on a beautiful, warm, sunny winter's afternoon, with the added bonus of no wind.
Polly then gave the Loyal toast, before I could snap an insitu photo. Mark made the Toast to Rotary International then Andrew responded with a very well prepared summary of the service highlights of Rotary Nowra's 2019-20 humanitarian service.
Graeme then made his special Presidential award to joint recipients Polly Shepard for Secretarial work, social organisation including hosting the Christmas party organising shows for members. In addition to that Polly organised our fundraing BBQs, including the food supplies.
In naming his joint recipient, Phil Presgrave, Graeme said that Phil gave support to Polly in her Secretarial roll, organised Zoom meatings during the pandemic. organised the "Safe Shelter Shoalhaven Program", and is the driving force behind the "Shoalhaven Emergengy Services Community Awards (SESCA)". Graeme added that Phil was always available to assist him and other Service Directors.
As these special Awards were announced in his President's report the special keepsake, Changeover bulletins were handed out and Graeme said the we can read the rest of his report at our leisure.
Graeme then introduced Jason Cox as the 2020-21 RN President. The exchange of pins ceromony was carried out then Graeme weighed Jason down with the Presidential chain.
Incoming President Jason's address
Thank you - Immediate Past President - Graeme! & Fellow Rotarians.
Hello, my name is Jason Cox and I am from Bomaderry and as President of Nowra Rotary Club. I would also like to acknowledge the traditional custodians of the land on which we gather today, the Dharwal & Jerrinja First Nation peoples. I would like to pay my respects to Elders past, present and emerging. I would like to acknowledge any and all Aboriginal and Torres Strait Islander people here today. The land we are on now, the land we live, work, breath, eat and sleep; always was and always will be Aboriginal Land.
Fellow Rotarians & Friends of Rotary - Our 2020 Rotary theme is 'Rotary Opens Opportunities' and I thank you and am truly grateful for being elected to the position of President and I accept those very worthy obligations. It is a privilege to be amongst a club that has so many talented and great long serving members with a rich 86 year history (chartered January 1934).
My goal is to make sure we continue to exemplify the true spirit of Rotary in our good works both locally in the Shoalhaven and internationally as I believe we are needed now more than ever before. I will be inducting our new members and introducing the new board on15 July, and you are all invited of course.
Once again, thank you everyone and I ask all of you now to charge your glasses, mugs etc and toast our Rotary Club of Nowra and say farewell to this difficult past year and wish everyone a positive, fun and active 2020-21. CHEERS!
Following the offical part of the Changeover, Polly presented the gum trees that were donated to our Club a couple of years ago to Jason as an incoming Presidents gift, followed by the cutting of the Celebration cake.
Then all enjoyed light refreshements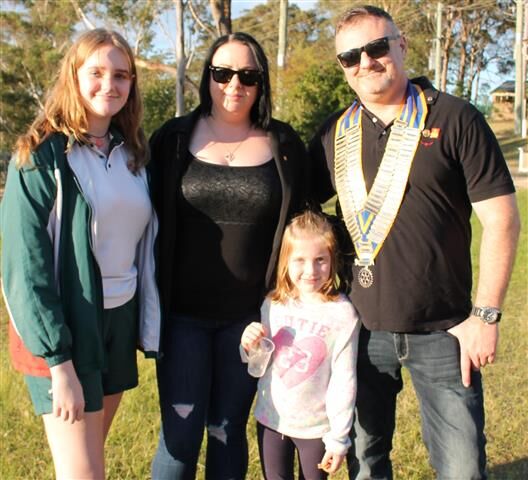 For the first time in its 85 year history the Rotary Nowra Changeover was conducted in 3 separate Covid 19 parts.
Firstly the formal Ceremony as detailed above
Then on the same day an informal dinner was held in the evening at the BBC (Max 20 people - Covid19 restriction) for those who couldn't attend the picnic.
Then the first meeting following the Changeover saw the induction of five new members and the election of the 2020-21 Rotary Nowra Board. In another first, two of the new members were elected to the board within minutes of their induction.
2020 -21 Rotary Nowra Board - Front Row (left to right) - Ann Sudmalis - Community Service Director, Jason Cox- President, Kerry Wilson Secretary, Back Row (left to right) Andrew Bevan- International Director, Mark Wilson- Club Service Director, Eric Lloyd- Treasurer, Arthur Moorhouse-Vocational Director, Graeme Cord Youth Director and Immediate Past President.
See Photo Galleries of Changeover events on Home page
Share this with your friends