SESCA Ceremony 2020
In a joint initiative by Shoalhaven City Council and Rotary, all of the agencies were acknowledged for their courage, supreme efforts and unswerving dedication in the face of those calamities. This was in addition to awarding those emergency service people who demonstrated Rotary's motto of "Service Above Self".
The winners of the Shoalhaven Officer of the Year Awards were for the Police "Sworn" category, Senior Constable Douglas Nyholm (Ulladulla Police Station); for the Salaried category, Peter Arndell NSW Ambulance Ulladulla; and for the Volunteer category, Dianne Heggie Rural Fire Service Tabourie Brigade.
Thank you sincerely to our Partners in this program, without their support we would not be able to conduct this event. Our Principal Partners were Air Affairs Australia and Choice Pharmacy; our Gold Partners were 2ST/PowerFM and South Coast Register; and our Silver Partners – Shoalhaven City Council and Vincentia Dental Care.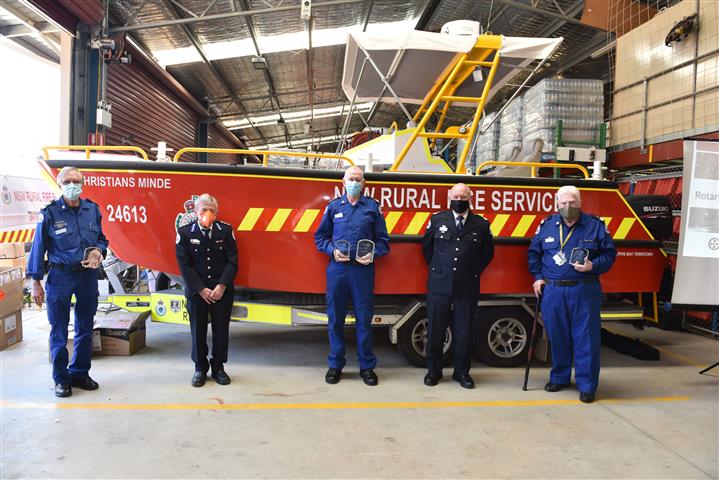 Presidents x 3 - Leonie (M-U) The assembled throng - COVID spacing Marine Rescue team - with Regional Operations Manager Jason and Haseena (Berry) (second from left) and
SESCA Ambassador (second from right)
see www.sesca.org.au for more information
Phil
SESCA Chair 2020
Share this with your friends