Saxon Returns from Denmark with amazing experiences and a prestigious award.
Saxon left Australia as a young inexperienced teenager. Last week, dressed in his badge ladened green jacket, Saxon spoke to us as a confident young man of the world.
Prior to Saxon's presentation guests Annie and Julian gave "A big warm welcome to Rotary Nowra from all the people around the world" in Danish. Saxon then responded, in Danish, with "For those who don't' remember me, my name is Saxon and fortunately, due to the Rotary Club of Nowra I was able to go on Exchange to Denmark for the past 12 months"
Saxon commenced his presentation with a huge thankyou to Rotary Nowra for this amazing experience and the support he was given by Rotary, in general, that enabled him to stay on Exchange during the pandemic.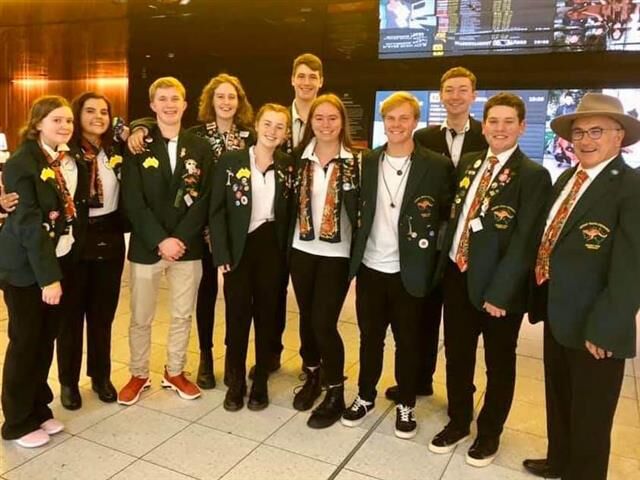 To a slide show backdrop Saxon recalled his departure, 4 flights, 33-hour, 16,000 Kilometre trip to Denmark on the 18th Jan last year.
He met his first Host family at the airport and jetlagged drove to his village Skorping that would become his home town for the next 12 months. Skorping had a population of 3,000 people and was surrounded by forest. Saxon went to school in another small village, Stroving, 10 minutes away, in what was called first grade and second grade, the equivalent of our year 11-12."
Saxon was hosted by the Rotary Club of Rebild and attended their meetings each week, COVID-19 permitting, where he gave a brief report, in Danish, on his activities for the week. Saxon said that he had a great Councillor, Henning and the Rotarians and 3 host families he stayed with welcomed him with open arms and treated him as their own son.
Fortunately, Saxon was with his first host parents Poul Eli and Annette Nymann for 2 months before Covid shut everything down and in this time, he saw a lot of Denmark's land marks and cities. He also attended Ice hockey and Hand ball games.
Saxons second host Parents Thomas and Eva Andersen had 2 sons living at home include two host brothers who were great company during the in the long rainy days in lockdown. After lockdown Saxon was able to attend school again 1 day a week. During the summer Holiday his host family took him to a village in Norway where the spent time in a cabin in the picturesque mountains. Looking at Nicole George Saxon said the cabin was not far from the town where she did her exchange
From the 150 exchange students 134 returned to their respective countries due to Covid and unfortunately the 3-week tour of Europe (equivalent to our Outback Trek) was cancelled.
However the remaining 16 students got together in the summer holidays for a 10-day mountain bike camp that was a lot of fun. However after 175 kilometres of hard mountain biking Saxon said that his legs were very sour. After the Summer Holiday life was getting back to normal and Saxon was able to visit more places like Billund and visit Legoland and spend mor time with his friends in the local area.
When Saxon told his 3rd host parents, Peter and Lene Pilgaard, who had a daughter living at home, that he hadn't been to Germany they took the opportunity to take him there, to see some famous sites and towns like Christiansfeld while the boarder was still open. He also found out that Southern Denmark was originally part of Germany Saxons.
Saxon said that he was looking forward to Christmas in Denmark as it is very different to Christmas in Australia and celebrations take place on the 24th as opposed to the 25th. Unfortunately, it didn't snow on Christmas day this year.
After Christmas Saxon started his preparations to come home saying goodbye to all the people friends, he had made. He also checked his Bucket List and ticked most things off including, the many interesting sites in and around
the capital Copenhagen that he visited 4 times during his stay ,
Historic Viking and WW11 landmarks, Jellingstenene where the runic stones carved back in the 10th century celebrating the conquest of Norway and Denmark and the conversion to Christianity are located, all the interesting sites in and around the region he was hosted in
Saxon also visited Amalienborg, the home Danish royal family, Nyhavn which was probably his favourite place in all of Denmark, as well as Christiania a small microstate inside the capital.
In question time we found out that Australian born Princess Mary went to School with Saxon's Dad so when his Danish friends ask "Do you know Princess Mary" he had to say yes and explain the connection every time.
Saxon said that with COVID it was a very disruptive year however, whilst he couldn't physically see and do more with Rotary, his school, and host families he learnt much more about Denmark during periods of lockdown.
One lesson Saxon did learn with Covid interrupting many of his and his hosts plans was" "If something goes wrong, I have to get back up, try something else and hope that it goes favourably this time, then repeat until something works"
Getting home was an adventure in itself with hotel quarantine in Sydney fortunately his mother Raylene was able spend the two weeks with him so that he had company.
Following Saxon's presentation
District Youth Exchange Chair – Rob Uhl thanked Rotary Nowra on behalf of the District Governor and her committee for supporting Saxon and YEP. Rob then proudly announced that following a very impressive nomination from the Rebuild Rotary Club, Denmark's YEP chair had announced that Saxon was named as the "Most Outstanding Inbound Exchange Student for 2020". This was met with loud applause from Rotarians and guests
Translation of Nomination
Club, Rebild Rotary Club, has nominated you for this year's Outstanding student. The fact that your club has nominated you for this award is proof that you have provided the extra that is needed to have a good stay, and a good experience that you will definitely remember for many years to come. Club counselor in your Rotary Club, has in his setting described in detail how you, throughout your stay in your club and with your host families have been very active, and created very strong bonds with your host families and friends who will last many years, in addition you have created you a large circle of friends among your classmates at your school. District 1440 congratulates you on the award, and wishes you all the best for the future.
Share this with your friends