International Womens Day
Val and Christa attended the meeting to outline and invite Rotary Nowra members and Friends of Rotary Nowra to become involved in the celebration of International Women's Day, and demonstrate how much Rotary supports women in our local and international communities.
Our Club's participation can be in the form of hosting a breakfast or event, joining with another Club or organisation to host an activity or event,inviting inspiration women as guest speakers etc. Val and Christa are seeking a representative from our Club as their first point of contact.
Christa said that since the merger of Rotary Districts, our Rotary Network has become much larger and she has connected with and sparked interest from a number local Rotary Clubs, as well as clubs further a field including Narooma, Bega, Canberra, Wagga and Orange.
Women first joined Rotary in the late 1980's and in three decades female membership has grown internationally to 23%. However, their contributions to Rotary's humanitarian service is a much greater percentage increase than that, as demonstrated by the number of women that have taken leadership roles in Rotary and the Community like Christa and Val at Gerringong Sunrise.
and in our own club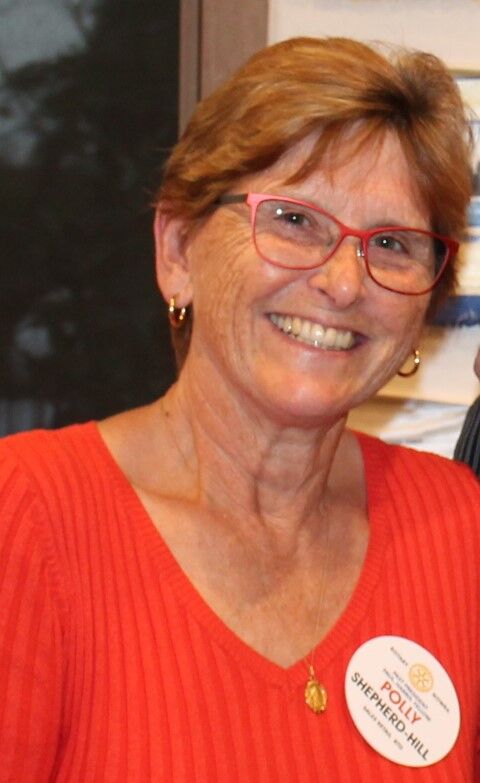 From left to right
Polly Shepherd (PHF) - Past President, Former Secretary and Club Services Director - Current Social Director
Kerry Wilson - Former Secretary - Current Club Service Director
Ann Sudmalis (PHF) - Former Community Services Director - Current Secretary and Treasurer
Ninna Digiglio (PHF) - Current Youth Director and Sergeant
and our former members,
From left to right
Fiona Kibble (PHF) - Past President, Former Secretary, Club Services Director and Assistant District Governor
The late Penny Pickup (PHF) Past President, former Club Services Director
Janice Aljansic - Former Treasurer
Jacquie Cousley - Former Youth Director
From left to right
Julie Ludlow (PHF) - Former International Services Director - Calendar Fundraiser Coordinator
Nicole George - Former Youth Director
Deb Cashion - Former Secretary
It must be remembered that, whilst there has only been women Rotarians for the past 30 years, the wives of Rotarians, before then, were called "Rotary Anns" and were very much "Rotarians at heart" supporting their husbands and Rotary since it was established in 1905. Many of our Club's "Rotary Anns" have received PHFs and other community awards for their 'above and beyond' service.
Christa said that International Women's Day will be held on 8 March 2022, and where possible events, will be held on this day; however, Clubs may conduct their events on other days in and around that day to fit in with their meeting times and activity calendars.
Whilst our members indicated a keenness to support this initiative, It was difficult for them to volunteer their assistance on the night without project commitment by the Board. It will be high on the club's Board agenda to discuss and establish a program of support over the next few weeks.
Rotarian, Ann Sudmalis, in her capacity as the former Federal Minister for Gilmore, is very aware of a number of organisations and programs in our community that support women and said that it will be important to complement their programs and not to compete with them with this initiate. Ann said that she would investigate this matter further and report Christa and the Board ASAP to assist in establishing our club's support options and the call for member and FoR volunteers to be part of the organising committee.
Share this with your friends